Special Note:
My apologies to those of you on the e-mail list who may have received multiple e-mails of my last post.  There was a server migration in December which caused a glitch in the e-mail mechanism, which I believe has now been fixed.
New pattern!
This is my latest necklace design, entitled Lorraine Necklace.  It requires 11/0 seed beads, 4mm pearls or crystals, 6mm & 8mm pearls (or round beads), and Superduo or twin beads.  If you choose to use 4mm crystals that are not bicone  (i.e. like the black/gold piece below, where the crystals are more oval), a slight adjustment to the pattern is needed.  If using oval crystals, then at steps 16 and 17 where you see 2 seed beads in a row, use only one.  Below the picture is a list of materials I used in the three pieces shown.  I hope you enjoy this free beading pattern!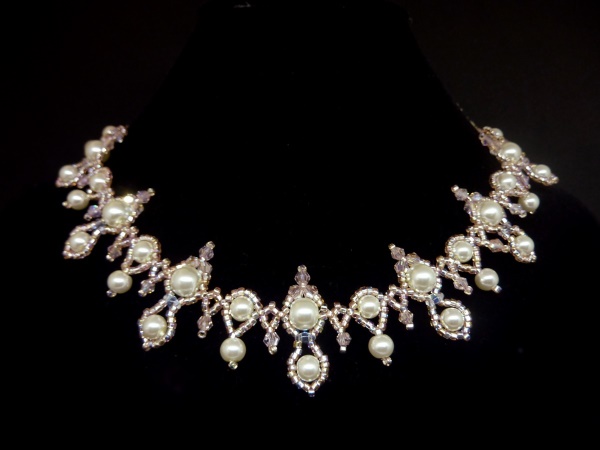 | | | | |
| --- | --- | --- | --- |
| 11/0 seed beads | 4mm beads/crystals | 6mm/8mm beads | Superduos or twins |
| Dyna-Mites: silver-lined light peach translucent | Light pink AB bicone crystals | Off-white pearls | Clear AB Superduo beads |
| Dyna-Mites: silver-lined translucent rainbow gold | Black AB round crystals | Glossy black round beads | Matte gold Superduo beads |
| TOHO silver (galvanized aluminum) | Dark blue pearls | Dark blue pearls | Half-silver/half-clear Superduo beads |
Click on the photos below (or the free beading pattern) to zoom in.
If you wish to print the pattern, download it in PDF format:
If you enjoy the free designs and downloads provided by BeadDiagrams.com, consider donating! (Just click the "Donate" button on the right sidebar to donate using PayPal).